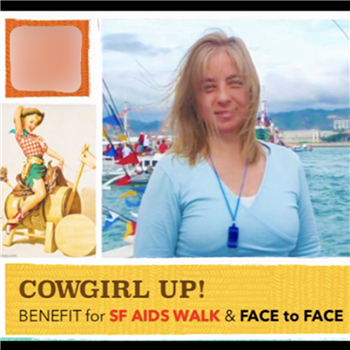 Edit in profile section
Grace's Fundraising Page - in honor of her late partner, Lynn Campanario
Grace Villafuerte
2ND ANNUAL COWGIRL UP - COUNTRY THEME PARTY!!!

For the 2nd year in a row, in lieu of a walk, Team Face to Face and I (Grace Villafuerte) are hosting a HAPPY HOUR fundraiser in honor of my AMAZING late partner, Lynn Campanario in collaboration with TWO TREAD BREWING CO.

Sunday July 8, 2018
1-5pm
Two Tread Brewing Company (downtown Santa Rosa)
Food, Adult Beverages, Kid Friendly, Silent Auction, more...

Sliding Scale Donation: $20-$10,000 (via donating online to my page (preferred), or at the party)
$10 under 21 yrs old
https://sf.aidswalk.net/LynnStrong

For a minimum donation of $20, you will enjoy one (1) pint of 2 Tread brew AND happy hour snacks, while supplies last--all generously provided by our host, 2 Tread Brewing. After that Cowgirl Up! guests can buy beers and food at Happy Hour pricing.

Lynn dedicated her life to her work with HIV/AIDS clients and advocating for needed programs. Lynn began her involvement and commitment to HIV/AIDS work in the early 1980's, having lost a close college friend to AIDS, who had isolated himself from his friends due to the stigma around the illness. She experienced and recognized early on the lack of understanding of both the virus, and the equally important need for emotional support and acceptance for those affected by HIV. Lynn worked for years with the Center for Disease Control in the HIV/AIDS department, and she spoke constantly (CONSTANTLY!) of how this work affected her continuing years of advocacy, understanding of policy and procedural development, and respectful interaction with clients in ALL community circles. As sooo many have said, one of the things that stands out about Lynn's work, is her ability to understand how to appropriately meet community needs, her brilliance in being able to develop a path to meet these needs, and her compassion and patience that brought so many community members together to fulfill these needs. Even as a Director, Lynn insisted on continuing to volunteer at DAAC's Needle Exchange, which she initially began doing in the 90's.

Locally, Lynn worked with DAAC for years with HIV clients, and she greatly influenced HIV services in Sonoma County. Shortly before her passing, Lynn was SOO excited to become a Board Member for Face to Face, after having working in collaboration for numerous years. She felt a heightened sense of obligation and commitment to raise funds for the amazing programs of Face to Face. Since her passing, Lynn has been awarded two Gold Resolutions from the Board of Supervisors for her contributions improving our community - specifically with homeless and HIV programs. She was also given SAINTHOOD by the Sisters of Perpetual Indulgence, for her HIV work. SAINT LYNNSTRONG.

Lynn left a legacy to ALWAYS try to do MORE than your share in your community, and emphasized the BELIEF that it is a privilege to be able to help others.

PLEASE help me raise our goal of $10,000 for our SF AIDS Walk - I truly believe one day Face to Face will stop the spread of HIV in Sonoma County!

Please let me know if you can help with acquiring Silent Auction or Raffle Items!!!